In a Courageous Fashion: Christopher John Rogers Collection 008
Saturday, May 22nd, 2021
(photo credit: Emmanuel Monsalve for Christopher John Rogers)
I've been sitting with the marvelous Christopher John Rogers Collection 008 since yesterday and thinking about what most struck me. What most resonates with me about this collection is that it is an incredibly successful response to a daring prompt CJR gave himself: to design a collection that amplified the house codes of a brand that, even in its first few years, has contributed signatures to design that are lasting.
In this collection we see some of the previously introduced CJR concepts, but expressed differently. The strawberry shape (such as in the look above), which has been shown previously as a dress or a skirt; though not featured in 008, the signature asymmetric pleated skirt CJR has been making since his graduation collection is clearly informing some of the ways pleats are shown in this collection, and also the silhouette of the suits with the maxi shirts and pants, (as the asymmetrical skirts were also previously shown with pants); the multicolored top stitch corsets and corset dresses; the tiered ruffles shown on looks as wide ranging as trapeze blouses and sheath dresses, to ball skirts and gowns, but memorably from past collections were the ruffles in plaid taffeta mini dress and tiered maxi skirts (in fact, the multicolored top stitch and the ruffles are conjoined in one 008 look, the Pierot styled top and black pant, where the stitch colors give the ruffles definition and flare.
And the same goes for signature colors. As Elsa Schiaparelli is known for pink, Valentino for Red, and Dior gray, for me, I think of green (my favorite color) as a color that CJR has made his own in his designs and through the whimsical ways the color is named (in fact, the names he gives to all the colors he uses in his collections are one of my favorite things about the label). The Nickelodeon "Slime Green" that we saw previously on stars like Lil Nas X in a tailored green suit and zebra shirt and opera gloves. Jameela Jamil in a "Tennis Ball" green silk charmeuse pleated poplin dress. The "Mountain Dew" green top and ball skirt that Lady Gaga wore to last year's VMAs. In this collection we get green in the form of a velvet evening dress, the green of which is called "Tomatillo." And the same is true for CJR and signature prints, especially dots, dots, dots in this collection and previously.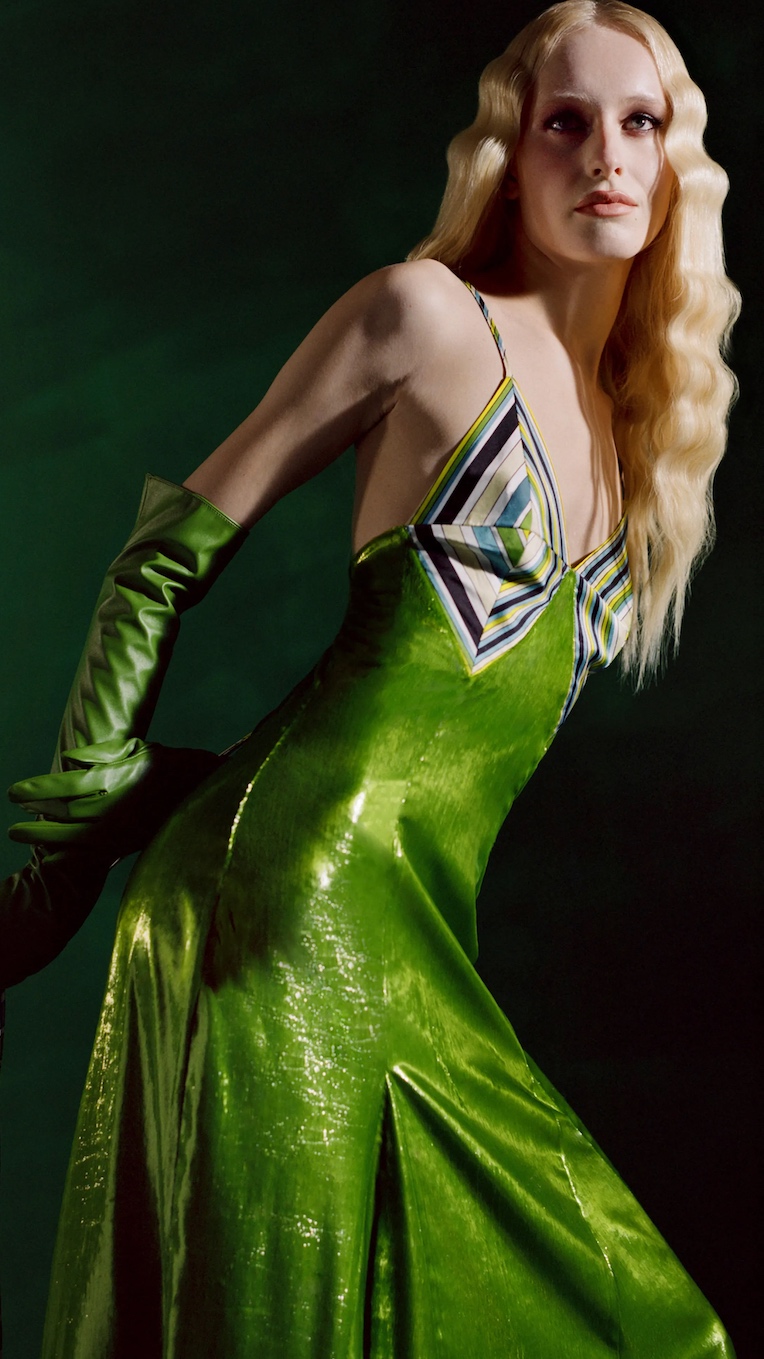 I could go on, but my point is that, as a fashion historian and cultural critic, I cannot overstate the import of showing your work and claiming it, saying "I gave y'all this." Writing about fashion in the mid-20th century about designers who are no longer with us, and were here too briefly, taught me the value of designers naming and mining their archive early and consistently. So yes, in Collection 008 the fabrics are sumptuous and that is to be credited. Yes, the color could "raise the dead," as Iris Apfel would say, and that is always a wonderful part of CJR. But what I admire most is that CJR took the year we've all had to sit and reflect and from that period designed a collection that shows his work in the way of the old legends, who were bold enough to offer new concepts in their lifetime and not wait to claim them as their signatures; they claimed them by mining their own archive for inspiration early and with fresh eyes, and that's how you build an institution. That takes courage and the impact will be felt most many, many decades from now when some industrious critic or historian is thinking about what CJR contributed. Collection 008 will be there to give part of the answer to that inquiry. In sum, I admire not only the technique and the artistry of CJR and his team. I admire that they are courageous enough to take them self seriously while having fun, and doing things there way, even setting their own calendar. It is all so exciting, necessary, and very much on brand.
Here are photos of some of my other faves from Christopher John Rogers Collection 008: